Your Captain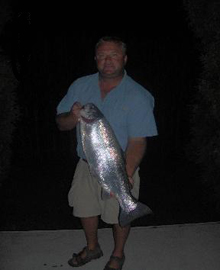 Chris Benn (Benny) has 25 years experience fishing the inland waters of South-Western Ontario, including Lake Huron, Lake St. Clair, and Lake Erie.
Chris brings with him a knowledge of Lake Erie's currents, wind tides and thermals along with a wealth of understanding how they effect the forage and game fish, to guarantee your fishing enjoyment. Also for your safety aboard his vessel Chris brings you the following Certifications:
Our Priorities
1

Passenger Safety: The number one priority of any charter is the safety of its passengers.

2

Catching Fish: This is the goal of all our trips. Every possible effort is made to catch as many fish as possible.

3

Have Fun: Of course, a huge part of the trip is having fun, and to catch fish while doing so.
Restricted Operator"s Certificate (Maritime) with DSC endorsement
Customer Testimonial
"Great times, awesome fishing!"